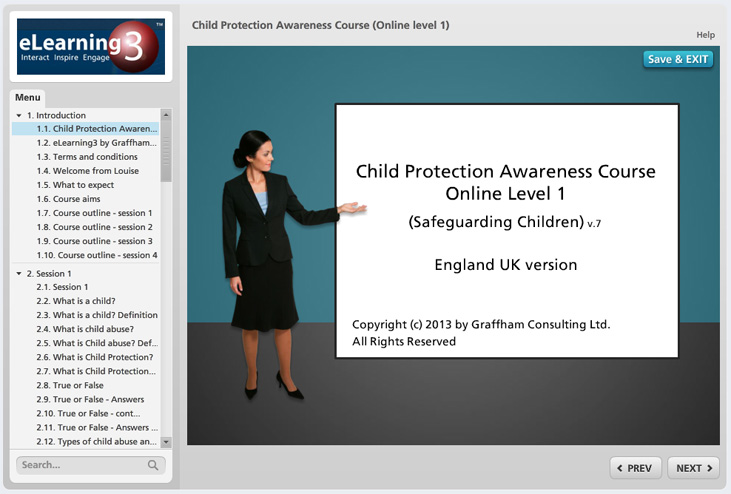 This online course...
helps you to keep children safe online. Know how to: help keep children safe online; develop online safety awareness; engage with the internet in an appropriate way; minimise risk and help safeguard children from online dangers. Download certificate at end of course. Course Duration: Approximately one and a half hours

Course Overview

Keep children safe online by helping them to developing an awareness of the dangers online and to understand how to minimise the risks. Help them to use social networking safely, including the consequences of risky online behaviours. The course also helps you to consider issues such as Child Sexual Exploitation, radicalisation, children missing education, bullying and gang activity from an online and social networking perspective.

Topics covered include: definitions of safeguarding children online; understanding the risks associated with social networking; developing personal safety awareness online; knowing and understanding dangerous and risky situations and behaviours; how to avoid disclosing personal information; being aware of traps; avoiding cyber bullying and maltreatment. Also included: what to do if you are worried about something or someone online; who to talk to, including help from organisations and agencies; responding appropriately; developing online safeguards at school and at home; online safety tips for teachers and parents. The course also includes case studies and useful information.
Download certificate at end of course.

Course aims
To enable you to:
help children to be aware of possible dangers online and with social networking
help children to develop risk and safety awareness online
know the dangers and potential traps
understand and act on cyber bullying
help children to speak out if they are concerned
take appropriate action
understand links with current social concerns including Child Sexual Exploitation
develop online safeguards at home and in broader contexts such as school and clubs
develop online safety tips for staff in organisations such as schools, and parents

Who is this course for?
Schools, teachers, support staff, parents, youth organisations and clubs, NHS, government bodies, youth charities and organisations, leaders of religious organisations and everyone who wants to develop a knowledge of keeping children safe online.

Course outline
Session 1
Setting the scene
Online and social networking statistics
Definitions
A changing world: our ever changing online identities
The different ways children engage online
Understanding how children think online
Session 2
Developing online safety awareness
Types of bullying: Cyber and real world
Recognising abuse online
Safeguarding children online: tools
Dealing with disclosures
Having concerns about a child or others' behaviour online
Responding appropriately
Session 3
Protecting children online – your role
What online safeguards are in place?
Working with others
Session 4
Case studies
Final thoughts and goals
Useful books, links and contacts
Test & Certificate
Take short multi choice test (repeat if fail)
Download Certificate
£36 (inc VAT) per person

ONLINE LEVEL 1
Keeping Children Safe Online


Duration: Approx 1.5 hours


£36 (inc VAT) per person

| | | |
| --- | --- | --- |
| | Call 01992 787242 to subscribe | |
For groups of staff, click here

| | |
| --- | --- |
| Download Course Outline | |
How often should this be trained? (Click here)
How it works

Sign up & pay securely

Login emailed to you
Work with course online

60 days access to course

Take test at the end
Download certificate
Volume Purchasing

Reduced pricing for groups
Payment by invoice
Reports and tracking
Administration, Team Leader setup
Call 01992 787242