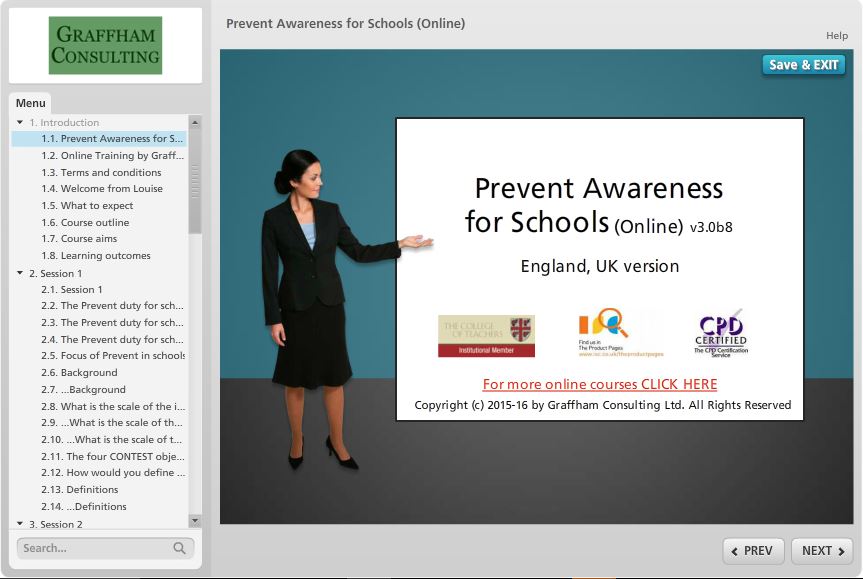 This online course...
Who is this Online course for?
In line with UK government requirements for schools to help prevent young people being drawn into extremism and radicalisation, Prevent awareness training is required for all school and college staff, including but not limited to teaching and support staff, office staff, everyone who works or volunteers at a school or college. This is also useful for those who are involved in the recruitment of educational staff and volunteers, plus international schools and colleges who would like to follow the UK framework.
Email andyd@graffhamconsulting.com or call 01992 787242.
Course aims
Understand the Prevent duty and the school's responsibilities
Understand the risks and threats both nationally and locally
Develop judgement skills in relation to those who may be vulnerable to radicalisation
Develop an understanding of the 'grey areas'
Gain an awareness of Prevent priorities and actions needed
Develop ideas for prevention of radicalisation and extremism within school and college
Course benefits and learning outcomes
Understand the duties within the Counter Terrorism and Security Act 2015
Gain knowledge of extremism in the UK context
Identify vulnerable pupils/students
Understand risk assessment and management in this context
Be able to incorporate Prevent into existing safeguarding activities
Write or revise school policies to incorporate Prevent
Describe how the school is safeguarding children in the Prevent context
Develop aspects of an implementation plan for the school
Course outline
Aims and learning outcomes
Background, scale of the issue, CONTEST, Prevent
Definitions
Prevent objectives
The Prevent duty for schools and colleges:
Fundamental British values
Prevent duty as part of school safeguarding
Prevent duty in policies
What are the risks and threats?
Who is at risk?
What am I looking out for?
How do I report?
Channel, referrals, support, people unsuitable for Channel
What can we do?
Planning within school
Department for Education (DFE) helpline
Information
£40 (+VAT) per person