A leading Safeguarding training provider in the UK and across Europe, Asia and the Far East...
Make a selection: Child Protection Course: LEVEL 1 > LEVEL 2 > LEVEL 3 > ONLINE LEVEL 1 > ONLINE LEVEL 2
London Training Course Venue for Graffham Consulting Ltd

LONDON
Woodford Green venue
Packfords Hotel
16 Snakes Lane West
Woodford Green
Essex IG8 0BS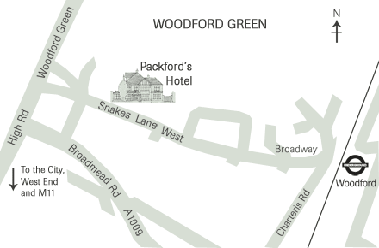 TRAVEL TO PACKFORDS HOTEL MAP
London Underground (On the Central Line)
Take the Central Line and alight at Woodford Station (approx. 30 mins from Liverpool Street) Come out of the station and cross over the road towards the taxi office. Follow the road round to the left and cross over into Snakes Lane. Walk up the hill for seven minutes until you reach Packfords Hotel on the right. There is a white sign by the side of the road for you to look out for. To plan your journey, please click here and use Transport for London's Journey Planner service.
Directions by Car
From the M25 (Junction 26) take the A121 (signposted Loughton, Epping, Woodford).
Travel up through the forest. At the top of the hill you will reach a roundabout ('Old Orleans' restaurant on the left).
At this roundabout, take exit 4 signposted to Woodford
Go straight over the next roundabout (Robin Hood pub is on the left)
After a few miles and going straight over 2 sets of traffic lights you will see 'Hills Garage of Woodford' on your left.
After the garage turn left at the next set of lights into Broadmead Road (The Castle Pub should be on your right).
Take the next left into Broomhill Road (There is Public Parking on the right here - £4 for the day)
At the mini roundabout turn right into Snakes Lane West.
We are a short way down on the left hand side. (Look for the Packfords Hotel white sign outside)

Parking
Packfords Hotel has limited parking to the front of the hotel (8 cars). Places cannot be reserved and they are on a first come first served basis. Public parking is ten minutes walk from the hotel and can be found at 'Sir James Hawkey Hall, Broomhill Rd, Woodford Green, Essex IG8 0BG' at £4 per day. See car directions above.
Travelling by Bus
Packfords Hotel is served by various bus routes. To work out your route, please visit the Transport for London's Journey Planner
Accommodation

Your venue (Packfords Hotel) has nine rooms, all with en-suite. For reservations, please contact Packfords Hotel directly. Click here for their website,

http://www.packfordshotel.co.uk/
Make a selection: Child Protection Course: LEVEL 1 > LEVEL 2 > LEVEL 3 > ONLINE LEVEL 1 > ONLINE LEVEL 2
Ask a question or post a comment
Do you have a question about this or a comment? Share it!
Community Discussion
Disclaimer: Whilst we endeavour to ensure that the information contained in this Graffham Consulting Ltd webpage / article is accurate, the material is of a general nature and not intended to be a substitute for specialist advice. Therefore, we cannot guarantee that the content of the webpage / article or learning points will be suitable to your circumstances or adequate to meet your particular requirements. Accordingly, we will not be liable for any losses or damages that may arise from the use of learning points from this webpage / article or associated material.

Cookies help us deliver our services.
By using our services, you agree to our use of cookies. Learn more

Cookie Policy explains what cookies are, which ones we use on this site and how you can manage or delete them
Privacy Policy | Disclaimer | Terms and Conditions

Illustrations on this website are provided under licence by iStockphoto

UK Office: 01992 787242
Email: andyd@graffhamconsulting.com
Graffham Global is a part of Graffham Consulting Ltd™
Copyright (c) 2005-17 by Graffham Consulting Ltd - All rights reserved
Company No. 6466057   VAT No. 926 801 127